Remote learning solutions
Teach your remote students effectively and naturally – without any new hardware or processes
BENEFITS
Here's how ShareTheBoard makes remote learning better
Teaching is an innately human-rich experience. Finally, you can keep the humanity in remote learning.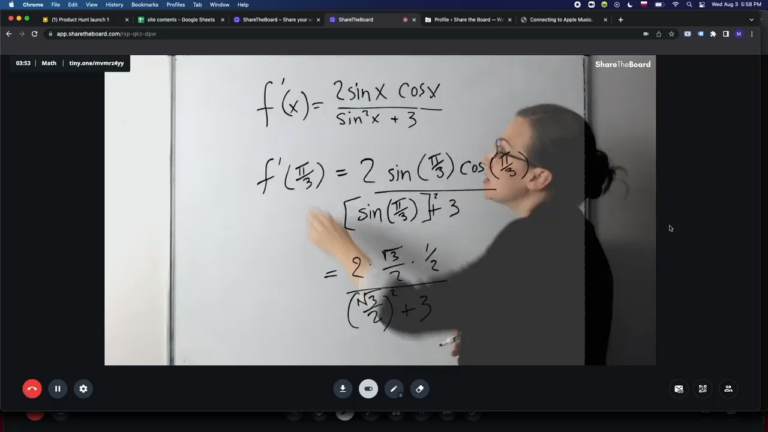 1
Give remote students a familiar learning experience
Deliver the most "like in class" experience possible, complete with eye contact and natural body language
2
You're already an expert
With ShareTheBoard there is no learning curve. Simply step up to your board and teach like you always have.
3
Truly engage your remote students
Deliver a front-row experience to your remote students: give them a legible board that they can contribute to directly.
4
Bridge the technology gap
Make sure no-one is at a disadvantage: ShareTheBoard delivers crystal clear board contents, even when internet connections are slow.
5
No expensive, immovable hardware
No need to purchase dedicated, expensive hardware. The tools your school already owns will suffice. And when you can't make it to class, all you need is your laptop.
FACTS
10%
of people in the US who've used video for education plan to use video conferencing exclusively for education in the future
Source: Zoom Report
FEATURES
Remote learning - here are the specifics
Long story short: we make the technology accommodate remote communication, so teachers can do what they do best.
Remote students enjoy Interactivity and control
Using digital annotations, remote students can contribute content directly to the teacher's board
Students can zoom in on any part of the board or save its contents at will
Multiple deployment options
For quick sharing and maximum flexibility, ShareTheBoards' Web app comes in handy
With the Content Camera desktop app, ShareTheBoard turns any camera into a content capturing device
Coming soon: ShareTheBoard will appear as an app directly inside of leading videoconferencing solutions
RESOURCES
Bridging great distances
Thoughts and practices to help you connect with remote participants more effectively and more naturally

Teaching is difficult enough. We let technology do the changing and let teachers teach the way they always have.